We had regularly taken trips, at least yearly for a while. Big trips.
In 2016 we rode motorcycles around the maritimes, and did some hiking and an overnight stay in a backcountry cabin. Sometimes the cat came with us. More often than a cat normally would.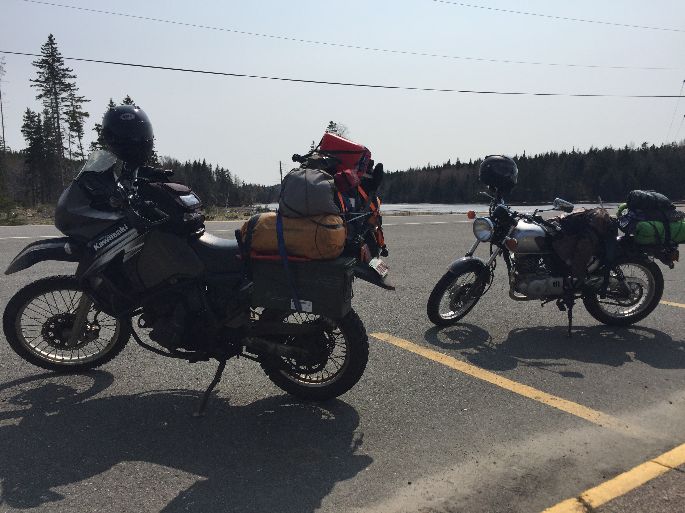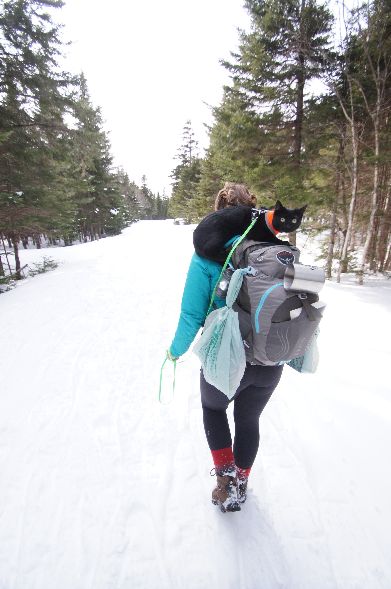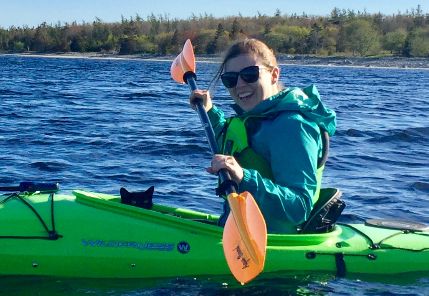 Later that year we took the kayaks to Maine to camp, paddle around a bit and climb a reasonably sized mountain. It's scenic, but make sure you get back down before dark.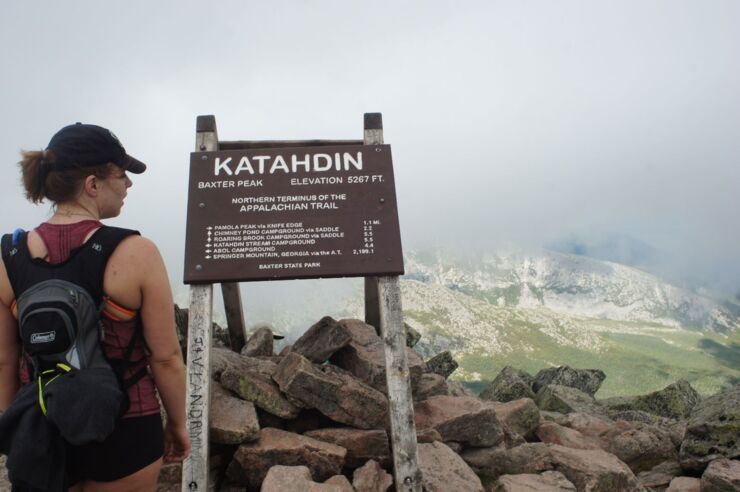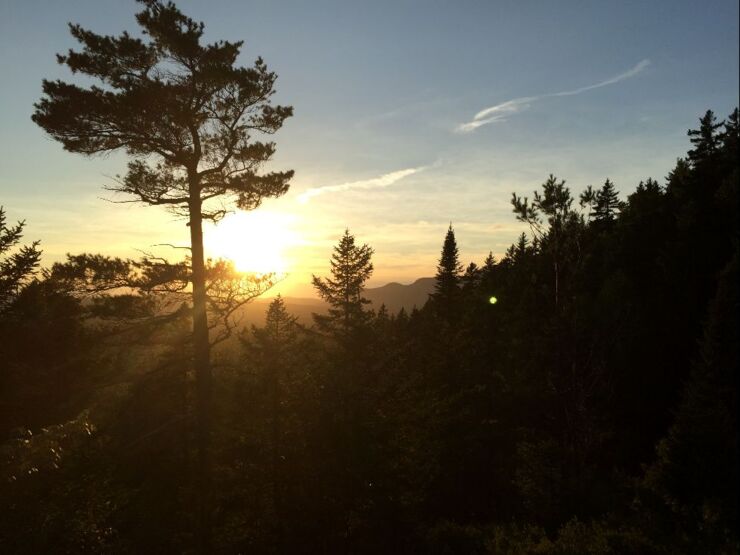 In 2017 we flew down to Peru, where we camped and did quite a bit of hiking through some more quite reasonably sized mountains.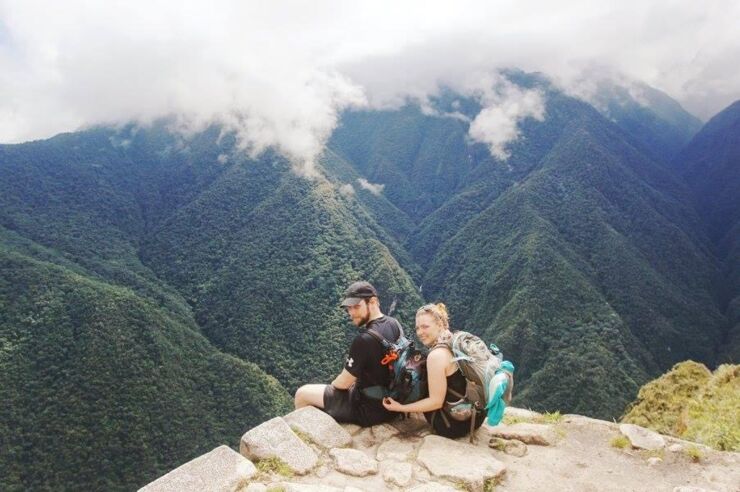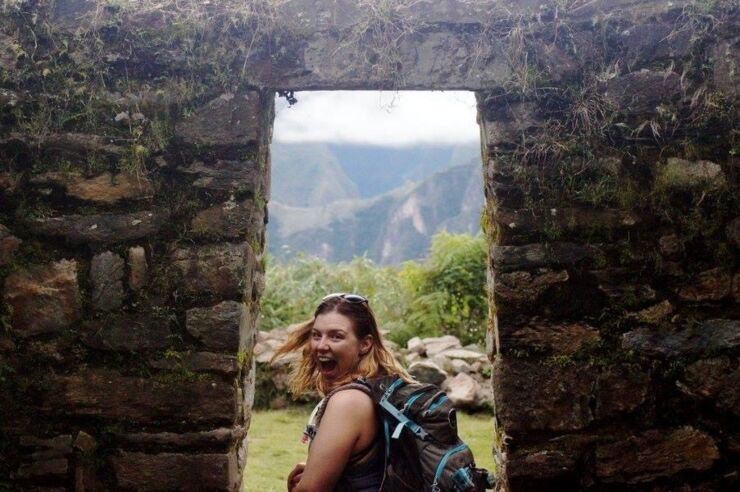 In 2018 we flew to Iceland, where we drove around the countryside for a week, swimming in various hot springs, hiking through smallish mountain paths past waterfalls and climbing a few smallish mountains.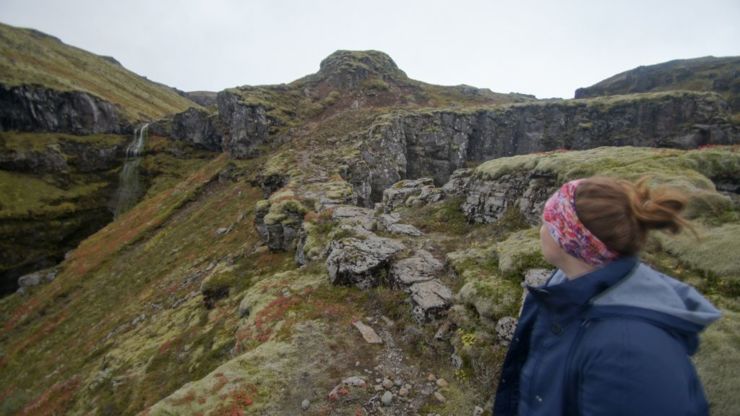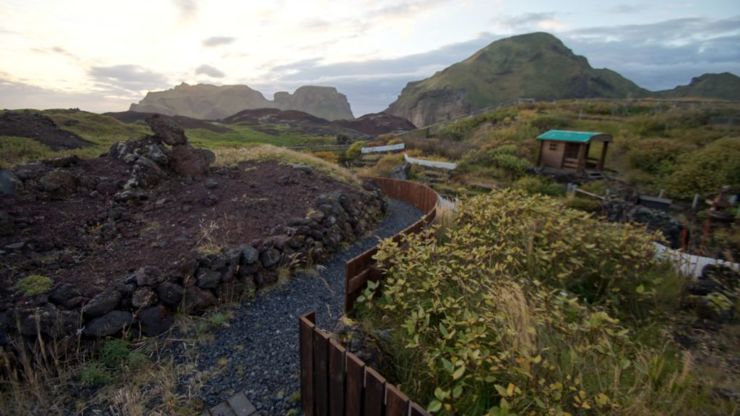 This is a story about a smaller trip we took.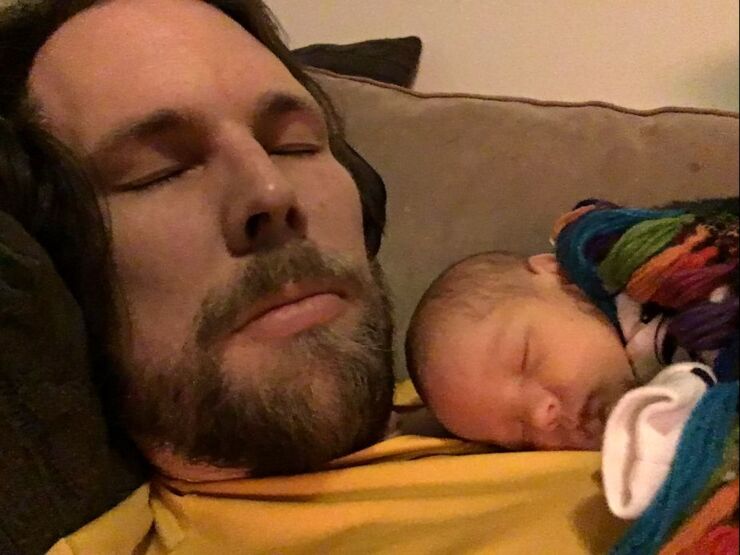 In 2019 we didn't really go anywhere outside the city. We had a new roomate, but she wasn't quite up for mountain trekking, and we couldn't very well leave her behind while we went travelling.
In 2020 a lot of people joined us in not really going anywhere for a while. Our roommate worked hard all year though, and by fall had developed the crucial skills needed to hike - wearing boots and holding a muffin while staying hydrated. All the dominoes were falling into place, as they do.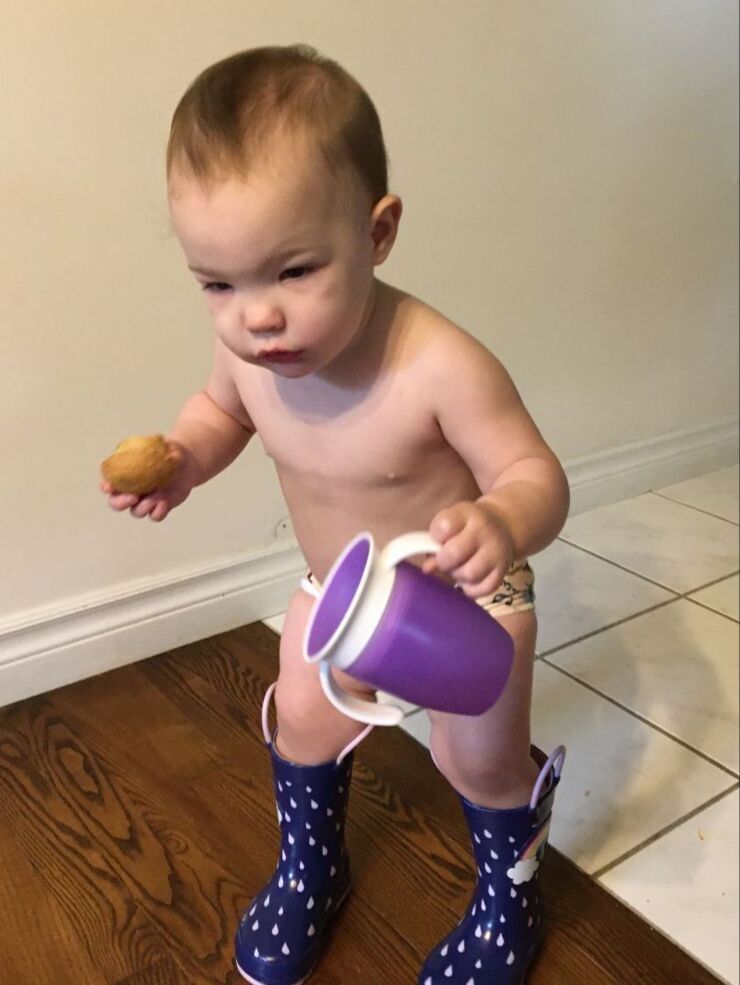 We did want to travel a bit, having missed out on going anywhere the year previous, so we decided to take a smaller local trip, to a wilderness area - backcountry camping in Kejimkujik. We ended up with a reservation at campsite 2 in Big Dam Lake, at the opposite end of the park from where we normally had camped.
We picked a spot accessible only by boat, across the lake from the backcountry trail. We had been to this park before and camped at some other spots in the past in the same way.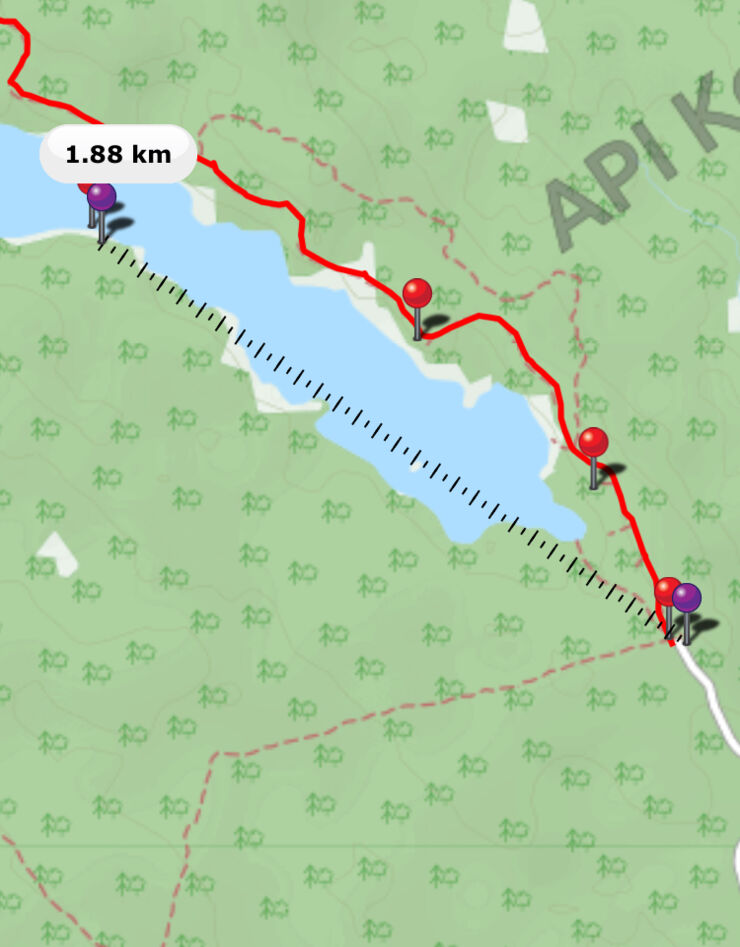 A previous trip required carrying the kayaks to the water, which we did one boat at a time, lugging the gear with us as we went. The campsite we had chosen from the few available to us required a half kilometer trek through the woods. Wanting to avoid making multiple treks back and forth, we decided to make kayak dollies, allowing us to use the kayak like a wagon to carry our gear, and lug our new roommate along too, who was willing to follow us wherever we went generally, but perhaps not yet ready to paddle or lug her own gear.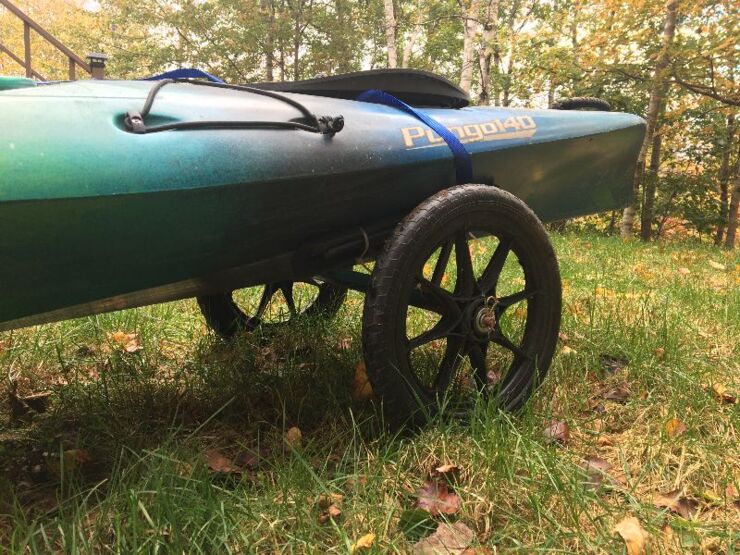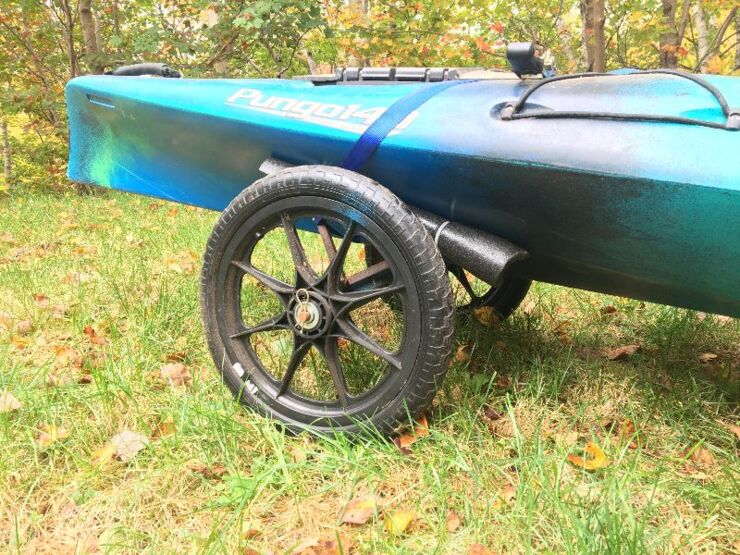 Here is what I ended up with. I had looked at some of the other kayak dollys available both online and at the local box stores, which all seem to be based on the same design with slightly different wheels and accessories. I was unimpressed with the smallish size of the wheels, low weight limits and the price for what it was - I got the wheels instead from princess auto and a bit of angle iron, and threw this together with the welder for well under the 100+ dollar asking price of the commercial versions, and I'm quite confident that it will hold more weight and roll better with the gear on top to boot.
On our way to the site, we stop in to The Barn Coffee and Social House for coffee and a snack. The youngest member of our party forgoes the coffee in favour of cramming home an entire chocolate chip cookie.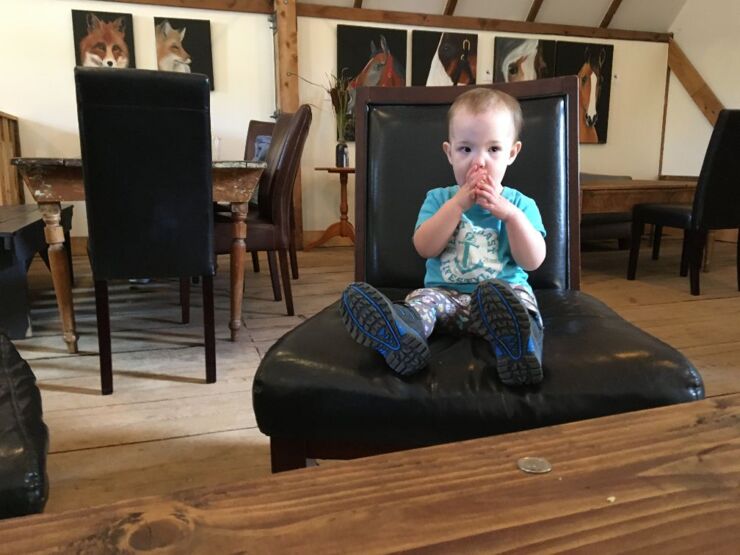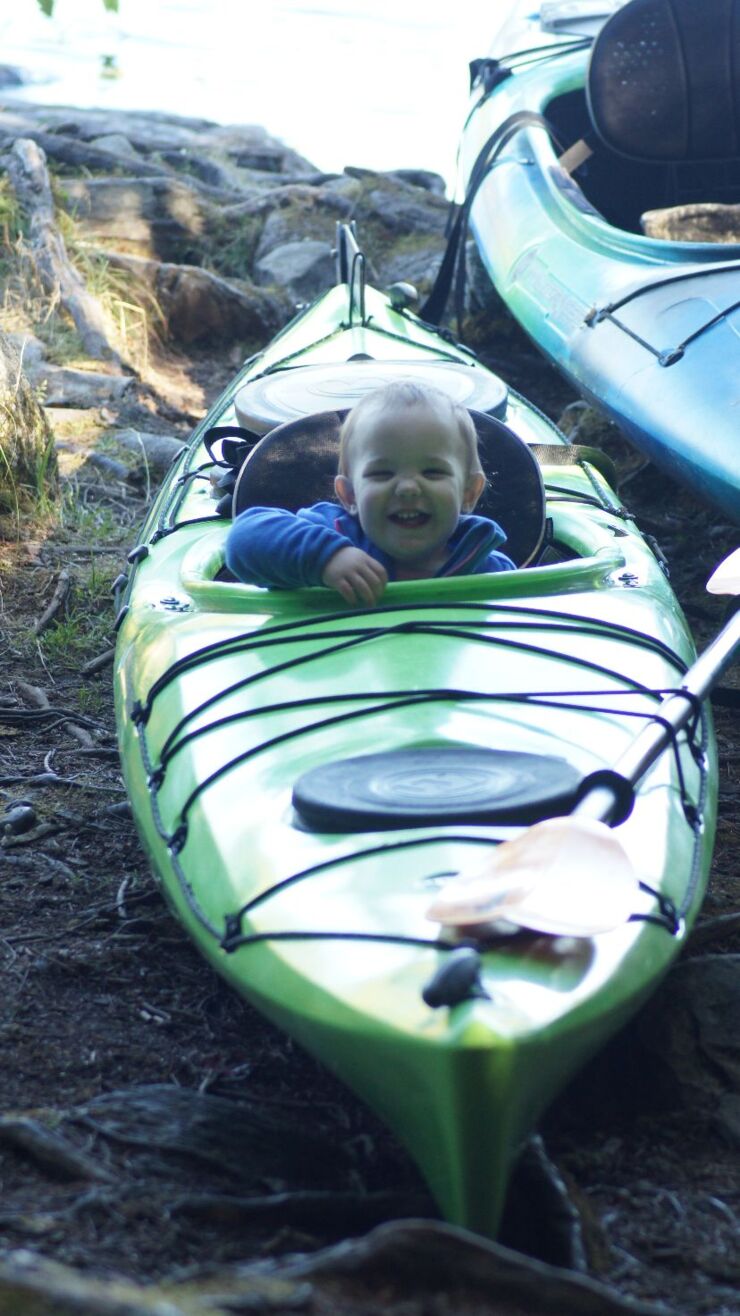 After grabbing some last minute provisions nearby, we set off for the trail-head. I had worried some party members might not take to the boat well, this being their first ocean-going voyage. This fear was unfounded though. After considerable loading, unloading and swapping gear from car to kayak-on-dolly to dolly-on-kayak to campsite, we arrived just at dusk, everyone happy and ready to make camp for the evening.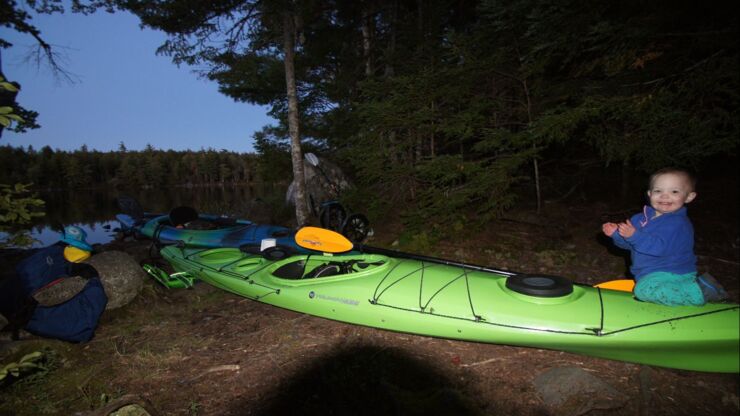 It was chilly overnight, but not exceptionally so for the time of year, and the storm that we had read about earlier in the week now looked like it wouldn't hit until a few days later at best. There were accusations that some members of the party were kicking and flailing, but by breakfast most people were able to set aside the squabbling and settle in for oatmeal with added chocolate and berries.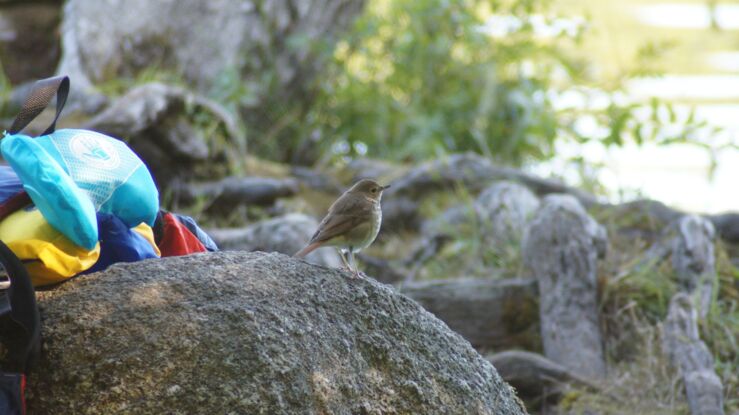 We had noticed at the campfire the evening before that wildlife in the area expected to share in the snacks brought to the area. When flashlights were turned off, mice quickly popped up around the picnic table to help tidy up, and during breakfast birds and squirrels were standing by give the area a once-over.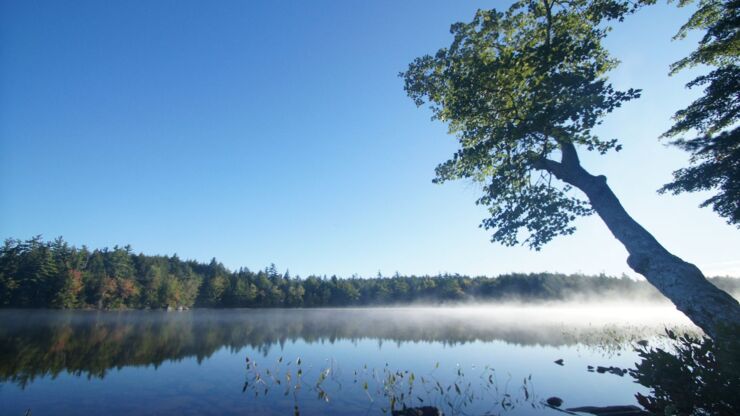 The last time we went backcountry camping here we had a brief encounter with young bear sniffing around the campsite during the day, but the largest animal we saw this trip was a Great Cormorant pacing back and forth across the lake.
Because of the storm in the forecast we had decided to stay just for the one night, so as the morning progressed, we slowly started to pack anything away we wouldn't need for the rest of the day.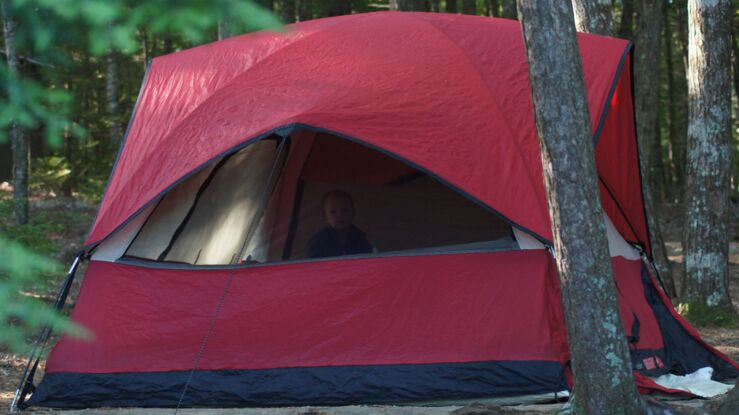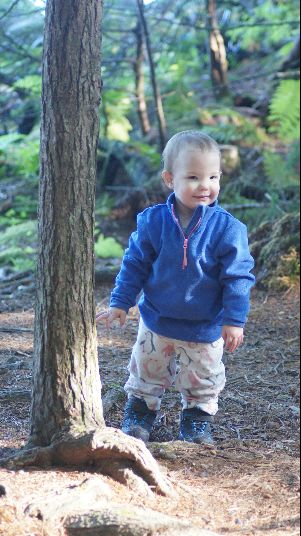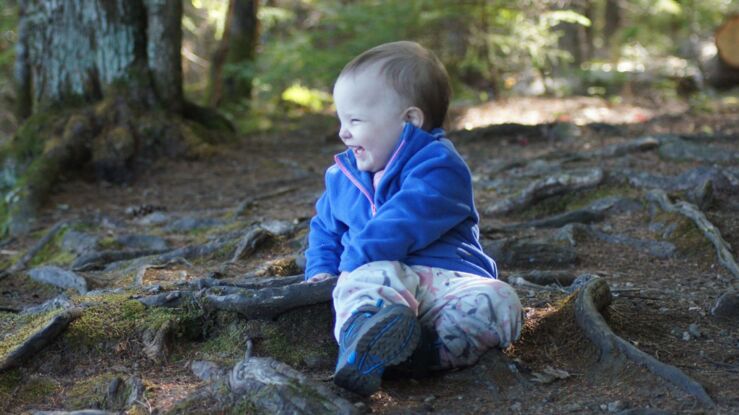 Below is the bird I mentioned above, who showed up on the lake sometime around mid-morning. A Juvenile Great Cormorant, they grow to 6-8 pounds with a 5 foot wingspan. He wasn't grown yet, but still quite large compared to the juncos who had shown up at breakfast for oats.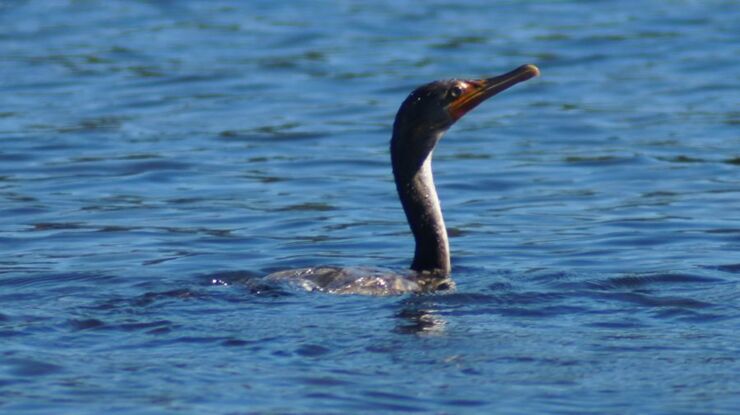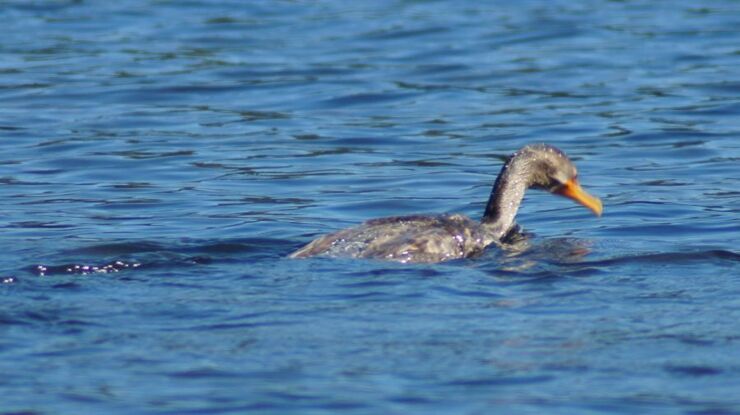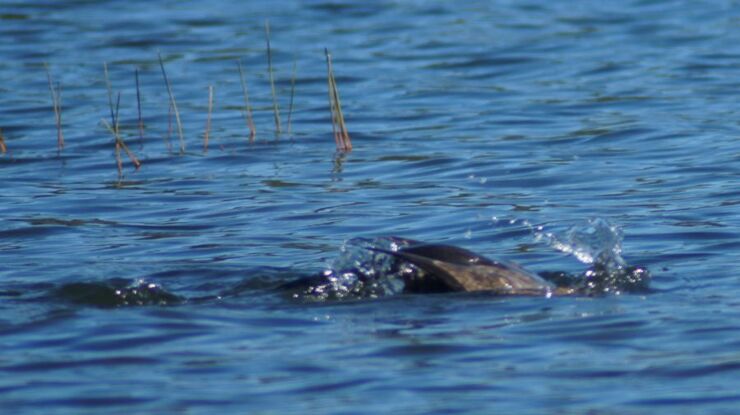 Great Cormorants don't usually come inland so far, and don't usually get so close. He paced back and forth the length of the lake, for quite a while. I felt quite pleased that I could use my big 600mm reflex lens to get a good look and maybe some decent photos. You need a long lens to get close up shots of birds like this, and my reflex lens is all manual, with a narrow depth of field and fixed aperture at f8, meaning it needs a lot of light and a bit of practice and luck to get a good shot. Probably one of the few areas left where my decade old SLT camera is still better than the newer cell phones.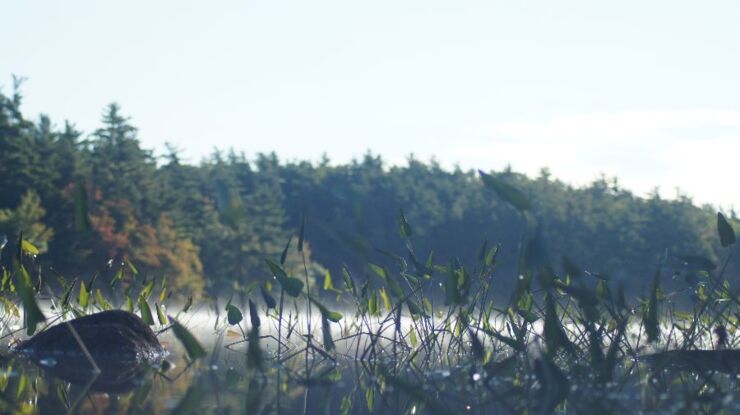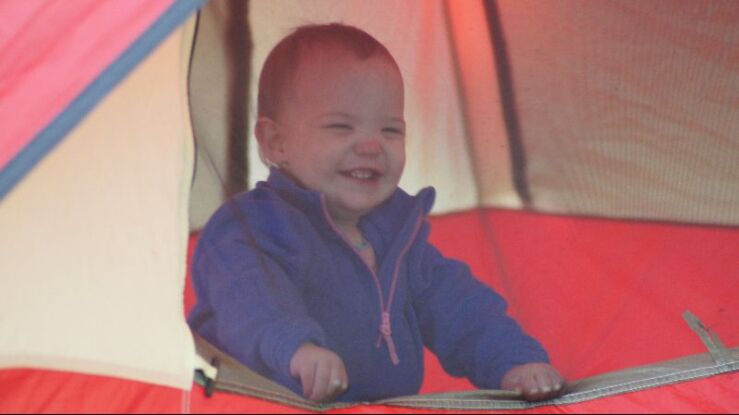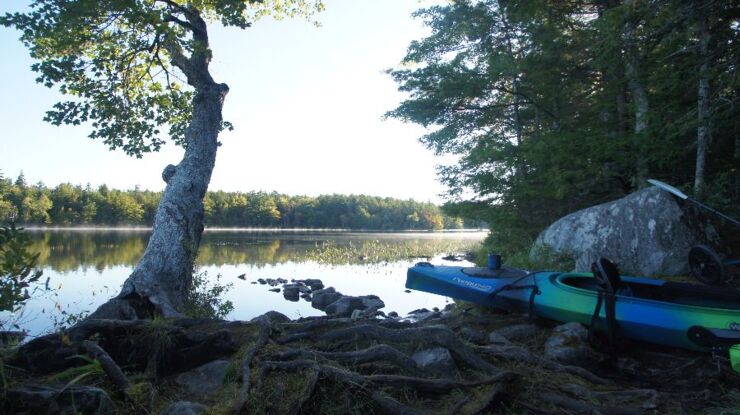 Having poked around the site a bit, had lunch and watched the wildlife, we took a nap and then set to packing up the last of our things. Since it was a short trip, we decided to make loading the kayaks a bit easier just by my making a second trip, taking most things and leaving them at the access point, then leaving the rest of the party to load up the first kayak while I returned for the last of the gear and catch up with the slower, more trundle walking part of our tour group.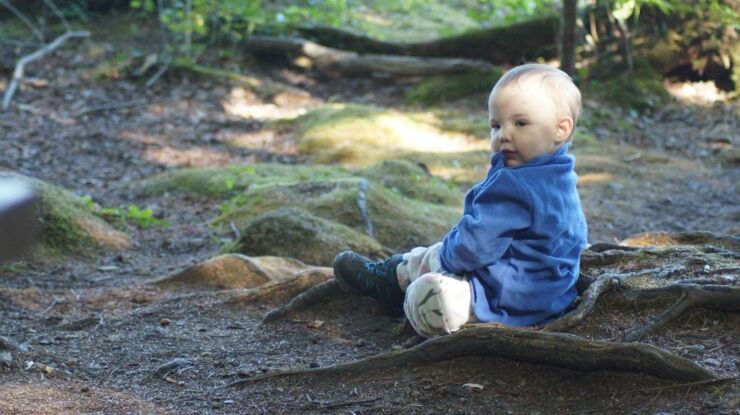 The first leg of this relay was uneventful, my copilot getting quite excited at first about the water, then falling entirely asleep for the remainder of the voyage. I had trouble not hitting her in the face while paddling as she would nod off forward the entire trip.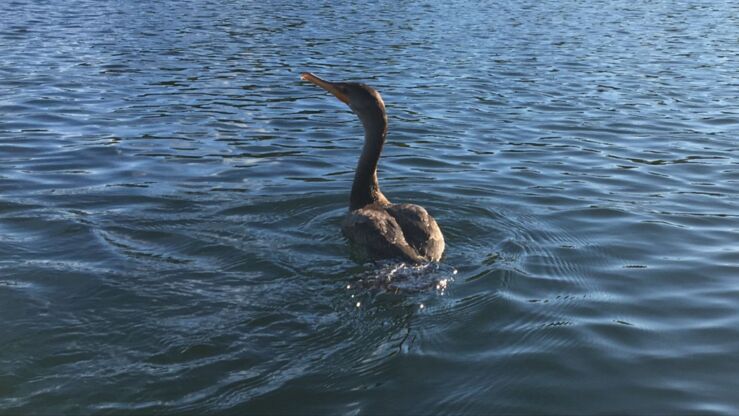 On the second trip back to the access point I noticed the cormorant that I had been watching earlier had begun to follow me. He circled around a few times. Then something unexpected happened.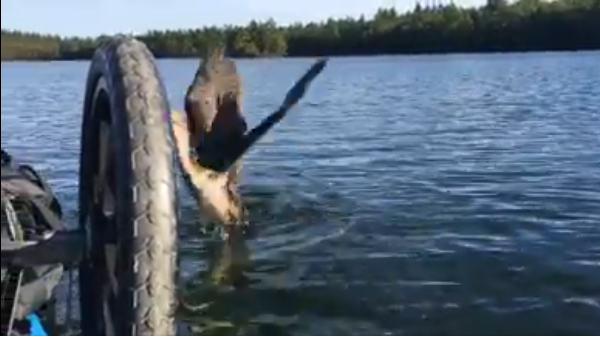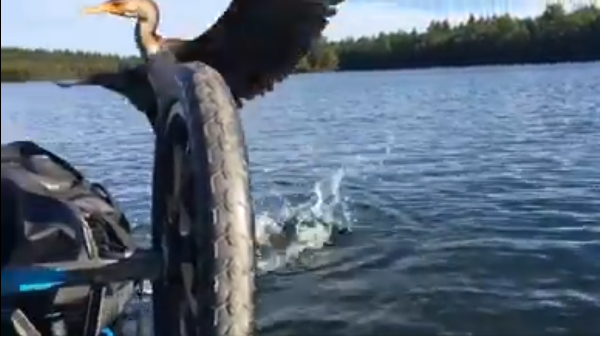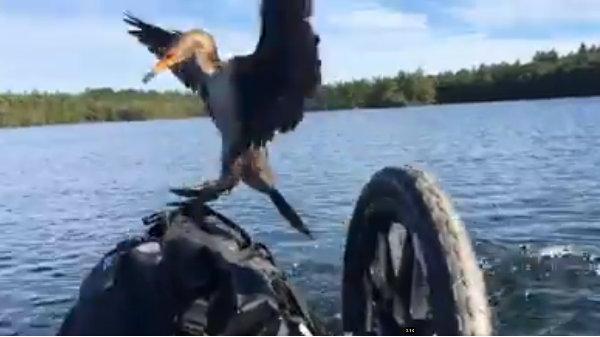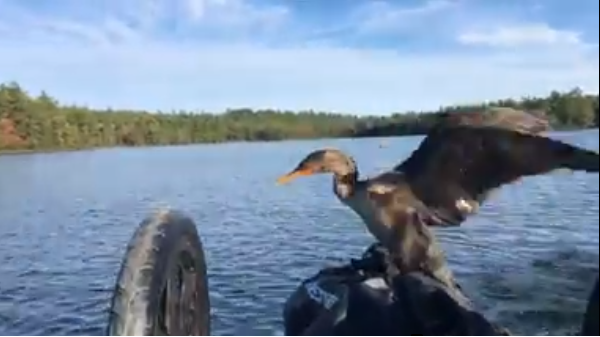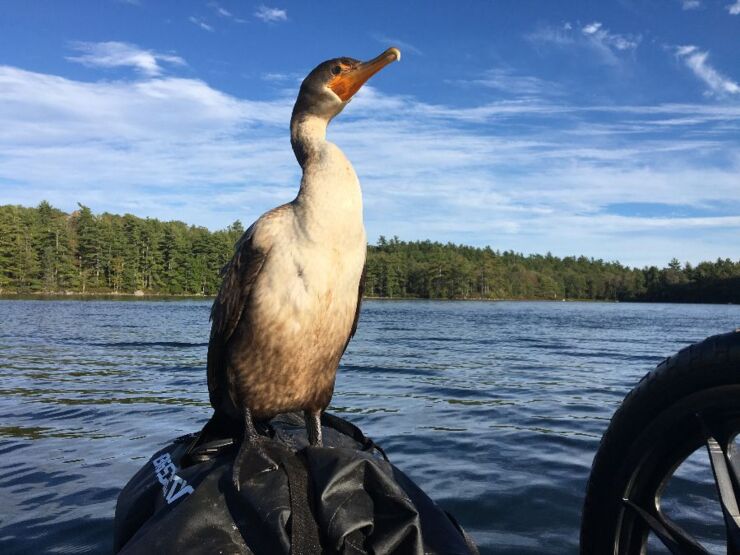 He decided to hop on and join me for a bit. I assumed once he realized that this rock he had chosen to take a break on already had an occupant, he would quickly move on, so I stopped paddling and sat there for a bit to see how long he would hang around. Turns out he would hang out for quite a while, and I was not nearly as intimidating as I thought I might be.
My real camera was packed away, but up this close even my old camera phone could get a pretty clear shot, and would happily livestream the event, not something I'd normally do, but I did try it for the novelty.
Having filmed him for a bit, I remembered that I was supposed to be catching up to the other group, not falling behind hanging out with misplaced seabirds, so I take a few final pictures, put the potato phone down and began to paddle again.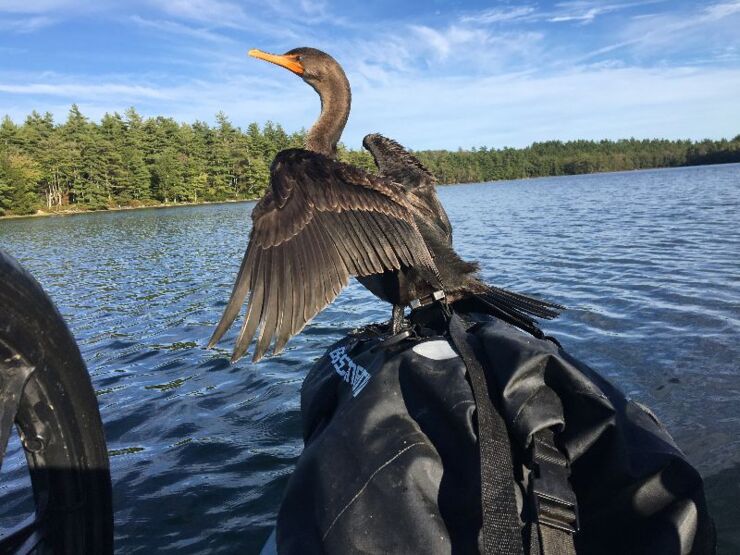 Curiously he didn't seem to mind my paddling the rock across the lake, and settled in for the duration of the ride, about another 20 minutes of slow paddling back, until about 100 feet from shore when he decided he'd hop down and swim back to the campsite.
It's always been a long wait to get a reservation for these backcountry campsites, and it was especially so getting a site in 2020 given that the regular campsites were all shut down, and everyone was looking for a spot where they could still camp. We were pretty lucky to get an open spot when we did, and lucky again when the weather threatened to turn bad, but instead stayed sunny and warm for a late September camping trip.
We've since added another roommate and started the training process again. It's hard work training explorers to successfully wander, but result is often quite worth it.