This was mostly done as a combination of writing exercise and planning notes for the trip itself. It's a bit long, and quite dry, but perhaps useful to someone else planning a similar trip, or at the very least good to look over after coming back to see what horrible planning mistakes we've made.
Choosing how to stay and travel
Planning our trip to iceland began when booking the trip; Reservations for the flight, transportation and accomadation came right away.
A few basic ideas were laid out at the beginning, in an attempt to minimize expenses and make the most from our time on the island.
Vacation from work allowed for 9 days on the island in September.
We usually like to use as much of our existing gear for trips as possible to keep the cost of the trip relatively low, so rather than just showing up with credit cards and staying in hotels, we camp out, sample some local food but purchase most food at the grocery instead of restaurants, and plan out our own tours.
Extra baggage on Iceland Air would cost 100$ each way, so despite wanting to use our own gear, it might be cheaper to rent the gear for the duration of our stay.
After a brief flirtation with motorcycle rental, after seeing the stupendous cost and thinking of the potential for inclement weather, we narrowed our choices to four wheeled rental vehicles that will afford camping, taking care of both transportation and accomadation at once.
There are main roads and backroads, known as F-roads in Iceland ( F standing for Fjallið, meaning Mountain ). Main roads are said to drivable year-round, while F-roads are closed in winter, along with spring and fall, and always require a 4x4 vehicle. They are unpaved, frequently treacherous crossing rivers and not especially well maintained in the manner of a normal road.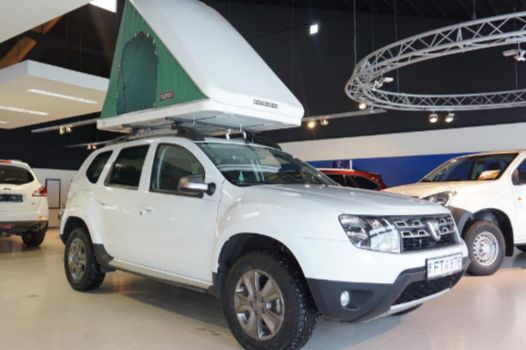 With the above in mind, we chose to reserve a 4wd camper. We chose the Dacia Duster 4x4 shown to the right here, which comes with camping equipment for cooking meals, and a pop-up tent attached to the roof rack for sleeping, which makes it adequate for traversing the mountains should we feel the need, and just barely qualifying as a camper.
For a short trip, renting is less expensive than shipping over camping equipment or vehicles.
The mildly offroad capable 4wd camper should keep us out of trouble on any unpaved roads we choose to explore, though might cause us to have to reroute or reject a road entirely if we come upon rivers or deep mud; with no winch, skidplates, and only moderate ground clearance, we're going to err on the side of caution.
This should allow for some exploration into the more interesting highlands before most of the F-roads are closed at the end of September, and let us skip bringing our tents, hammocks, and cooking gear. leaving us to only bring clothing and some specialized gear like camera equipment and personal items.
Map preparation
With how to get around sorted, where we would go, sites to see and places to camp was next.
We first took to Atlas Obscura's Iceland section to get an idea of interesting sites to visit; Iceland is littered with waterfalls, volcanoes, hot springs and scenic valleys. We chose to attempt some of the Golden Circle route, and then proceed to travel counter-clockwise around the island, picking stops a few hours drive apart so that we could spend a bit of time in each area and set up camp for the evening.
I took to downloading maps of, first the entire island in maps.me, and then grabbing topological maps in GPS Kit.
Maps.me is a vector style map - it's made up of lines and regions, with the idea that you make routes with it, and it leads you along these lines; This is like the flat street map google maps provides. It's ideal for planning to drive from one point to another, finding an address or directions from one place to the next.
Maps.me showing basic
terrain features

GPS Kit showing detailed terrain and
Points of Interest mapped out
GPS Kit on the other hand has rasterized maps, made up of images tiled together. The maps aren't any good for direction routing, but are great for seeing detail that isn't on the roadmaps provided by vector mapping applications like maps.me. The topo maps will show hills, mountains, and give an idea of the terrain around a road. It also has great support for Waypoints and tracks, and allows importing and exporting these to track where you've been travelling, and make notes of points of interest.
I found three sets of coordinates I could load in GPS Kit of particular interest to me, which I provide in GPX format here:
The lists above may be out of date, new stores open and old ones close, campsites shut down for the fall, many right before we arrive in mid-September, and the POIs may be inaccessible by roads, closed for the season or just gone, but this should give us at least a few options as we wander along.
With all the GPX files loaded, the map took on this appearance, with thousands of pins across the island: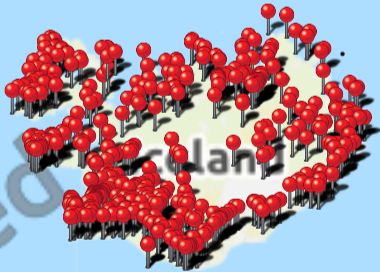 Planning an Itinerary
When we began research into what places to visit there were several common themes. For short trips near Reykjavik, the Golden Circle makes for a good day trip, and for longer trips the south of the island can be explored, or the whole of the island cirumnavigated along the Ring Road.
We've chosen to first take a day to arrive, get our gear together and gather supplies, visiting a few destinations in Reykjavik before heading out to camp for the evening. This gives us time to get acquainted with the vehicle, and find any gaps in our planning before getting too far away from the city where we might need to make a purchase.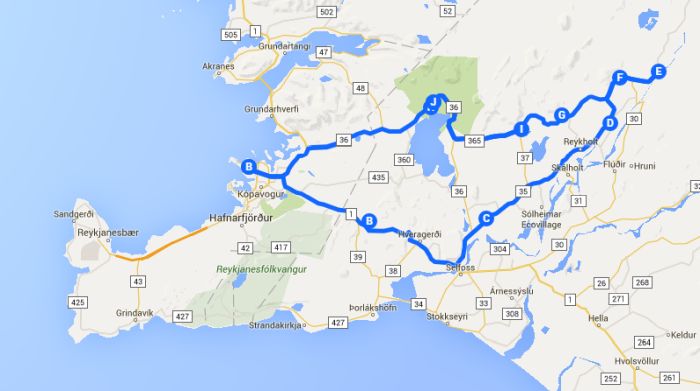 For day two we will awake in the morning and set off for the Golden Circle route, heading clockwise, but then tailing off towards the end of the day to the southeast, heading east along the Ring Road in a counter-clockwise fashion, toward the ferry to the Westman islands in the south, Vestmannaeyjar.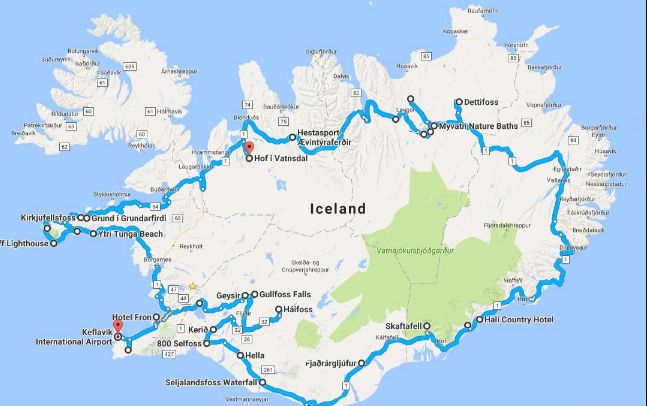 Ideally we spend Day 3 exploring Vestmannaeyjar, and either camp there in the evening or take a late ferry off the island and head further to the east.
Here is where the itinerary gets fuzzy: While the entire Ring road can be driven in 18 hours during good weather conditions, there are thousands of unique spots to stop, take pictures, places to explore and things to see. By day 3 we should have a good idea of how far we can expect to travel from day to day, we will perhaps have detoured on an F-road to see what the conditions are like for ourselves. From here we should be able to guess if we need to abandon the idea of circumnavigating the whole island and just explore the south then head back, or if we'll have enough time to finish and maybe see some of the extra sights towards the West Fjords, for example.
Climate and current conditions
We started off the packing by finding out about the conditions we've chosen to camp in.
While choosing items to bring, I added the weather location in Reykjavik to my phone's eWeather HD app, which would not only allow me to keep an eye on the weather, but view historical weather info for our trip window, and see when the sun and moon rise and set - luckily the moon will be setting very shortly after sunset during most of our trip window, which should give us a good opportunity to see some of the Northern Lights.
I also bookmarked the Icelandic Meteorological Office which offers a comprehensive national weather forecast, along with news and forecast information about the Aurora Borealis, earthquakes and landslides and avalanches.

Chosing clothes and equipment to bring
From the above we found that the temperature would be mostly above freezing, hovering during the day near 10 degrees celcius, but not dropping too much more than 5 degrees in the evening.
Because you are never more than 100km from the coast in Iceland, the temperature is very much dictated by the ocean. This means moderate temperatures compared to a deeper inland area at the same lattitude.
Because there are few trees, thanks to long periods of darkness and cold in winter, There is relatively little forest, and not much other than fjords themselves to block the wind.
So we're expecting lots of wind, a bit of drizzle, fog and downpours, and while cool, less variation in temperature, the island being surrounded an ocean that warms and cools much more slowly as the seasons change.
We'll need warm clothes, water resistant, wicking, with warm underlayers and a good wind resistant rain jacket, a good light hat and gloves, and some more warm fluffly layers to sleep in.
Packing camping items
We aimed to stay within the carry-on limits of our flight for packing, which allows for one bag that must fit in the overhead bin, and one small personal item to be stored under the seat. Ideally, we will avoid the need to bring an extra bag, which would end up costing $100 each way.
Packing began with grabbing everything we think we might use while camping from a car, and laying it all out on the floor of the library, along with a bag within the given size limitations.
With most of the sleeping and cooking equipment taken care of in the rental camper, this mostly ends up being clothes appropriate for the weather, and hiking equipment.
clothes

equipment

toiletries

papers

vest
rain jacket
hoodie
fleece pants
tshirts
longsleeve shirts
underwear
long johns
socks
hiking pants
gloves
balaclava
hiking boots
bathing suit

sleeping bag liner
hydration bag
MSR extra water bag
katadyne filter
pack pillow
first aid kit, with

bandages, gauze
Acetaminophen
Ibuprofin
ASA
Gravol
Polysporin

toothbrush
toothpaste
floss
deodorant
tiny shampoo
tiny conditioner
pack towel
lip balm

wallet, with

license
credit cards
costco card

passport
ticket info
vehicle reservations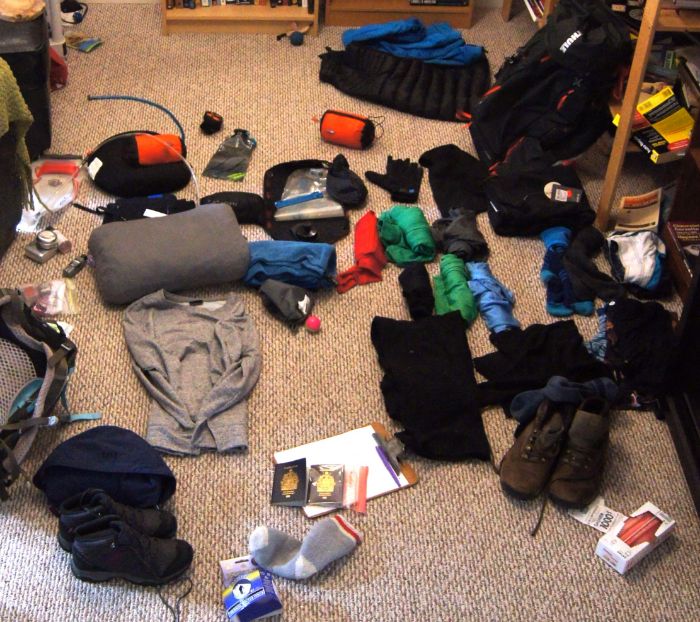 When listed out or strewn about on the floor, it looks like a lot of stuff to lug along, but a large portion of this stuff squeezes down quite nicely with a compression bag - all the clothes go into one bag, which is cinched down tight.
Conspicuously missing from the camping items pack
Lots of things I would normally consider basic survival gear here in Canada is neccesarily absent from the above.
Anything to make fires won't be needed, or even remotely usable. Covered mostly in moss and a few slow growing birch and imported pine trees, Iceland prohibits open fires, and campfires are only possible in designated firepits, with kindling bought from stores expressly for this purpose.
I won't be making any campfires out in the wilderness, nor using my biolite campstove. Instead, warmth will mostly be provided by the car or warm blankets in the tent, and cooking will be done over a provided rental propane stove.
This also mostly eliminates the need for an axe or saw.
No shovel to dig a cat-hole either, waste goes in a bag and gets carried out, and digging a hole out in the wilderness would be frowned upon anyway. No walking out on the moss off the road or generally disturbing anything - the whole country has a leave-no-trace attitude to their wilderness.
Finally, any cotton items, save for a single pair of jeans, is coming, in favour of technical shirts and underwear, with smartwool socks and waterproof outerwear.
Equipment to bring
Equipment to be brought in the small personal item bag, mostly boils down to camera equipment consisting of a Sony a55 and a long, medium and short lens, a small chromebook, lights and GPS equipment - a spot tracker and a garmin glo bluetooth GPS.
Almost all of the equipment is powered by USB - the camera batteries have their own USB charger, the drone directly from USB-C, the lights have USB ports, the spot tracker takes AAA batteries for which I have a USB charger. All can be charged from a 20100 mAh battery with three ports, or from a 5 port charger, which may itself need to plug into the 100W inverter.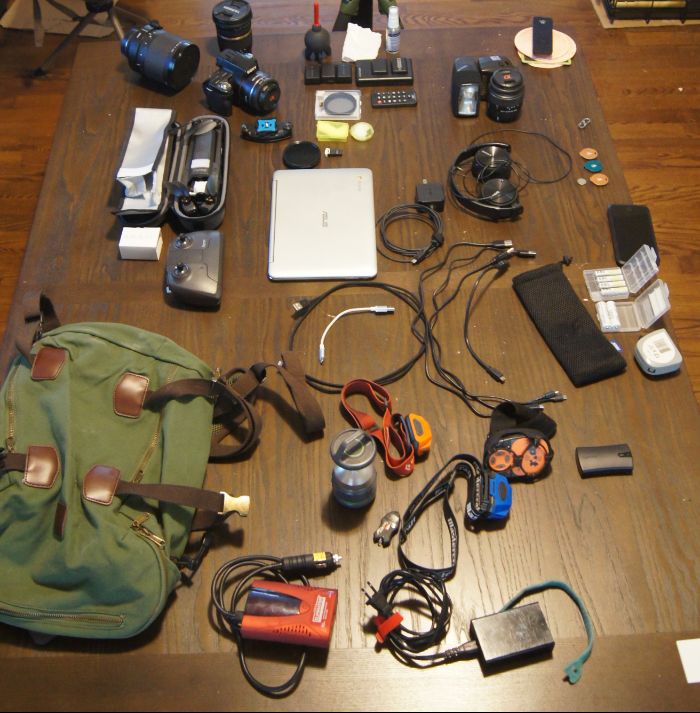 Conspicuously missing from equipment
Sadly, my Manfrotto tripod is too large and heavy to drag along in either bag. Assembled, it is larger than the largest dimension of the larger carry-on bag, and weighs nearly six pounds. While night shots would greatly benefit from this larger, heavier tripod, I can't justify using up all the room for this one specialized item. Instead, I'm packing a slightly smaller, much lighter and cheaper aluminum and plastic Vivitar.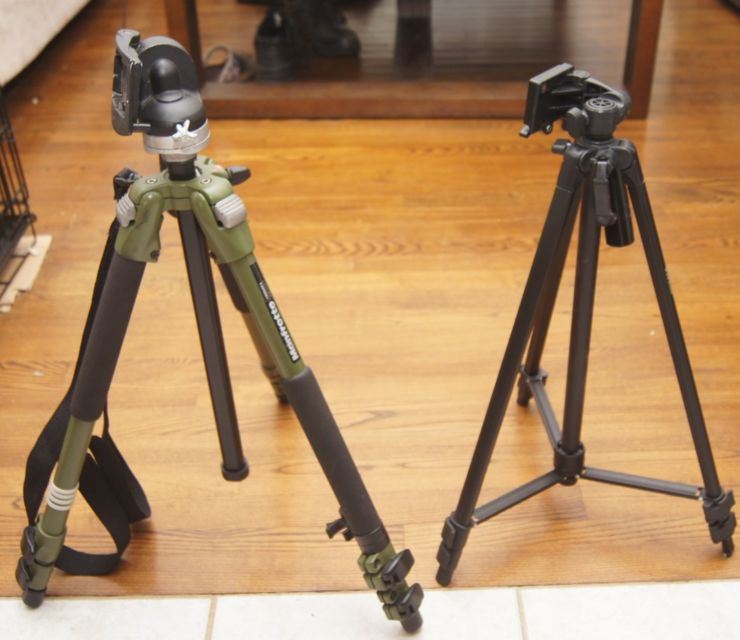 GoPros aren't coming either. While the weather might merit a waterproof camera, It's unlikely I'll be doing much that warrants action-camera footage. There is some snorkeling to be done, and some footage from outside the car on the F-roads could be neat, but I think the drone should be able to pick up the slack for exterior shots, and underwater footage is difficult to get right anyway.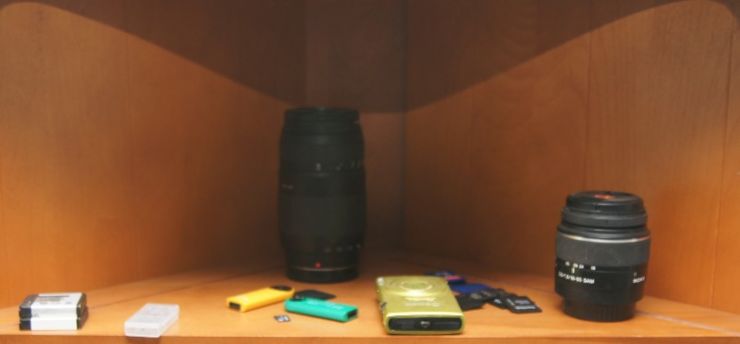 Other lenses for the Sony SLT-a55v will be staying home as well, The 75-300mm zoom stays behind in favor of the 600mm mirror lens. The extra weight of this larger lens shouldn't be too much of a burden as we'll be mostly staying near the car rather than hiking long distances. The kit lens can stay home too, 18-55 is good if you have to choose a single lens, but I'll instead bring a 10-24 for wide angle shots and a fast 50 for the far end of that range. For everything else I'll just have to get in closer for the shot, or take a few ( hundred ) steps back and use the 600.
In the bag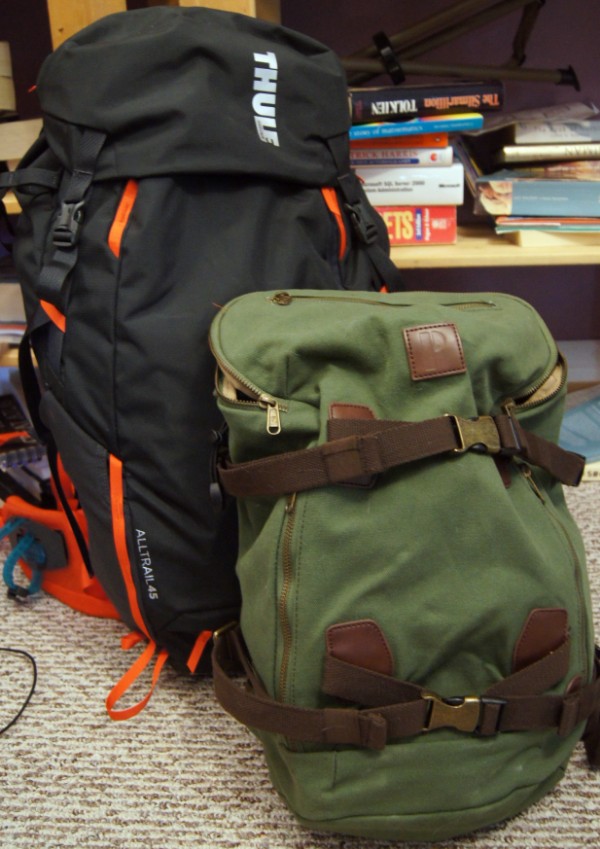 Final weigh in for the carry-on was 16.7 pounds, well under the 22lb limit. With compression bags squeezing together my warm fluffly clothing, I'm just bumping up against the size limits at 21x16x8, and there should be some wiggle room to squeeze it into the overhead bin, which is the main concern.
Outside of some last minute second guessing of what's been packed, and a trip to The Trail Shop tomorrow for their clearance sale starting the same day we leave, we should be all set.